February 25, 7.30pm
Los Angeles Theatre Center
514 Spring Street, Los Angeles (MAP)
Reservation/Donation Information
As a part of our Benefit Gala, The Global Theatre Project is proud to present a performed reading of the play 'Being Harold Pinter' with James Cromwell, Ed Harris and other celebrities, to bring support to the members of the Belarus Free Theatre through celebrating their work. Through this event, The Global Theatre Project also seeks to emphasize the significant value of international collaboration and development of healthy global rapport and community through the arts.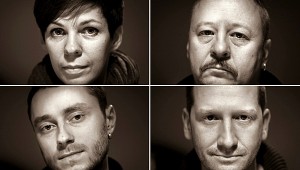 Members of Belarus Free Theatre (photo from NYTimes)
The play is a collage of selected writings from the UK dramatist and Nobel laurette, Harold Pinter, who was a passionate supporter of Belarus Free Theatre up until his death in December 2008; combined with testimonials by political prisoners who have been arrested, assaulted, imprisoned, and in some cases abducted by the KGB in Minsk, during the peaceful protests of the questionable "re-election" of Alexandr Lukashenko.
Since 19 December, Lukashenko´s government has arrested and/or assaulted students, teachers, rival political candidates, journalists, and artists–including members of Belarus Free Theater, an independent theater company based in Minsk that has been fighting for democracy in their country since 2005, which has been called "the last dictatorship in Europe".
Links to news reports on the situation:
http://www.statevoices.org/node/7832
http://www.villagevoice.com/2011-01-05/theater/belarus-free-theatre-s-being-harold-pinter-is-no-slight-ache/
http://www.racc.org/resources/13-%E2%80%9Cfree-belarus-portland%E2%80%9D
http://dctheatrescene.com/2011/01/11/being-harold-pinter-reading-illuminates-the-work-of-belarus-underground-theatre/?utm_source=twitterfeed&utm_medium=twitter
http://www.nytimes.com/2011/01/15/world/europe/15belarus.html?partner=rss&emc=rss
http://leisureblogs.chicagotribune.com/the_theater_loop/
http://www.publictheater.org/component/option,com_shows/task,view/Itemid,141/id,1025