Dear Friend,
The wait is over, you may now exhale…congratulations to the first Middle East America winning playwright, Adriana Sevan. And a million thanks to the many talented playwrights who applied to the first round of this new national initiative including Leila Buck and Sinan Unel, winners of the Special Jury Prize.
This is an extraordinary moment for all of us. Bravo!
Torange Yeghiazarian
Artistic Director

Middle East America Distinguished Playwright Award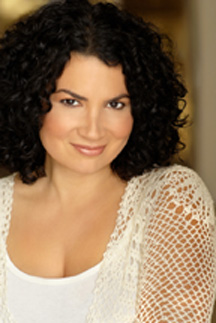 The three theater organizations from across the nation, Golden Thread Productions in San Francisco, the Lark Play Development Center in New York, and Silk Road Theatre Project in Chicago, who formed Middle East America (MEA): A National New Plays Initiative have awarded the 2008 Middle East America Distinguished Playwright Award to Adriana Sevan. Additionally, due to the outstanding pool of applicants, MEA has honored both Leila Buck and Sinan Unel with the 2008 Middle East America Special Jury Prize.
The first of its kind, this prize provides a $10,000 commission for Sevan to write a new play, intensive developmental support from the Lark, possible productions at Golden Thread and Silk Road, and travel funds to be present at all stages of the process. According to Lark Producing Director John Clinton Eisner, "Our nation's energy and innovation has often sprung from immigrant's stories and global perspectives, and this commission represents a new path for cultural institutions learning to collaborate on building new repertoire that more accurately mirrors and celebrates America's ever-evolving cultural landscape."
During the commissioned play's development and production arc, representatives of each partner organization will travel to each city—Chicago, New York, and San Francisco—to observe the process and to engage in public conversations and panel events about Middle Eastern voices. Jury Prize awardees Buck and Unel will both receive $1,000 in recognition of the high quality of their writing and potential contribution to the American theater. 
Sevan is an American artist of Armenian, Dominican, and Basque ancestry; her one-woman show Taking Flight, has been workshopped and performed at The Goodman Theatre, Center Theatre Group, San Diego Repertory, South Coast Repertory, and The Sundance Theatre Lab. About the award, Adriana says, "What a blessing to have a trinity of theatres so committed to the heart of my unwritten play, eager to share their wisdom and resources, provide a nurturing community, and help the seeds of my story to grow." 
About Sevan's proposed new work, the Artistic Director of Silk Road Theatre Project Jamil Khoury says, "This exciting first commission promises to enrich the cannon of American theatre and our understanding of Middle Eastern Americans. Adriana plans to conduct research exploring themes of family, atrocity, migration, and memory, including the untold stories of the Turkish Schindlers who helped Armenians survive their Ottoman tormentors. The play is inspired by Adriana's grandparents who survived the Armenian genocide before fleeing to the shores of New England." 
Playwrights of Middle Eastern American heritage applied from all over the U.S. and, according to Torange Yeghiazarian, Golden Thread Artistic Director, "The quality of the proposals far exceeded our expectations. The pool of readers highly recommended, to the final selection committee, more playwrights than the Initiative can possibly support in its first round. We hope that in the future we will be able to award more than one commission."
For more information and application guidelines on Middle East America: A National New Plays Initiative, click here.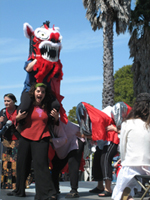 Golden Thread's Fairytale Players in a 2007 show at Dolores Park. Photo by Lanie Wieland.

Golden Thread's Fairytale Players
At the Asian Art Museum on Oct 26th!

Don't miss Golden Thread's Fairytale Players at the Asian Art Museum on Oct 26th at 2 PM as part of the museum's Family Festival!

The Fairytale Players will perform The Girl Who Lost Her Smile, based on the children's book by Karim Alrawi. Following the performance, the Fairytale Players will engage the audience in theatre activities and Persian folk dance. The performance will be a true treat for the entire family!
SAVE THE DATE! Golden Thread's Gala Fundraising Reception: Saturday, December 13, 2008!
We'd like to thank our sponsors:
Want to join the Golden Thread email and/or mailing list?
click here
Golden Thread Productions
131 10th Street
San Francisco, California 94103