After six defiant years, the Belarus Free Theatre has been forced into exile abroad. But our campaign will go on.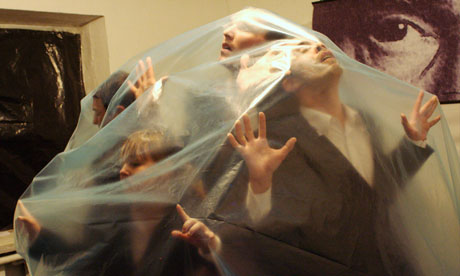 Rend-game … members of the Belarus Free theatre perform Being Harold Pinter in Belarus in 2007. Photograph: Ho/Reuters
When I was 16 years old I wanted to become an actor, but because my father was vice-president of the Academy of Arts it wasn't possible: children of top officials weren't admitted. My elder brother Yuriy told me that I could become a diplomat – practically the same as being an actress but with the benefit of foreign languages. Today, he lives in the US and is a political refugee. My parents have not seen him for 10 years.
On 31 December, my dad was standing at a crossroads attempting to wave in a way that would not draw attention to me. I was sitting in the car, crying and wondering whether it was the last time I'd ever see him. We were on the road for three months. The apartments of my parents and my husband's parents were raided and neighbours were instructed to report to the police if they saw us. We were called "public enemies". And yet all of this is nothing compared to what happens to those who are in prison or under house arrest. Today, 56 people face between three and 15 years in jail. Among them are friends of ours: 2010 presidential candidate Andrei Sannikov and his wife, Irina Khalip; anthrolopologist Dmitriy Bondarenko and activist Alexander Atroschenkov; and Natalia Radina, the editor-in-chief of human-rights group Charter'97.
Why? Because between 30 March 2005 and 19 December 2010, we ran the Belarus Free Theatre. We gathered together to make drama, and to say whatever we thought, wherever and whenever we felt like, performing in front of anyone we cared to. We wanted our spectators to think – this, of course, is the most terrifying part for any dictatorship. As Vladimir Shcherban, the BFT's director, says: "We speak the issues that the audience keeps silent on." We've played in cafes, restaurants, apartments, and private houses – even in the woods. We've performed under cover of weddings, birthdays, Christmas parties. (Can you imagine a wedding where the "bride" and "groom" have just met each other, and where the bride has a three-year-old son in tow? Well, that was the kind of wedding we organised.)
The first foreign writer who came to visit us was Tom Stoppard; from the first moment we had an enormous personal connection. Since that time, we feel like we're part of one family. Tom spent five days with writers, directors, journalists and met with those who are now in jail. It was Tom's advice to us to read the plays of Harold Pinter, which led to our most-performed show, Being Harold Pinter, directed by Vladimir. The theatre has now existed for six years, and as I write this it's four months since it left Belarus. We've performed in New York, Chicago, Hong Kong and are now back in London, being looked after by our friend Irina Bogdanova, who joined with Tom to set up the Free Belarus Now movement. Our friends from the Public theatre in New York are having us back to perform in April, and after that we've been invited by our friends at London's Almeida theatre to perform here once more.
I'm waiting for the moment when we start rehearsals again (Kevin Spacey kindly offered us space at the Old Vic), and I'm keen to see how our new piece is created and how the public responds. But today we understand that it's not enough to be just theatre-makerss. And it's important to refer, every day of our lives, to what our patron and friend Harold Pinter said in his Nobel speech:
"A writer has to smash the mirror – for it is on the other side of that mirror that the truth stares at us … Despite the enormous odds which exist, unflinching, unswerving, fierce intellectual determination, as citizens, to define the real truth of our lives and our societies is a crucial obligation which devolves upon us all. It is in fact mandatory. If such a determination is not embodied in our political vision, we have no hope of restoring what is so nearly lost to us – the dignity of man."